Palette Aluminum Starter Control Surface Kit
UPC:

27843551119

Brand
Description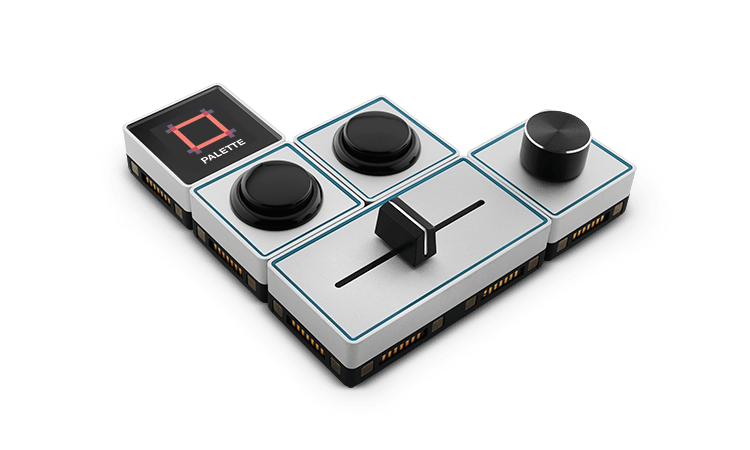 Control your software the way you want with Palette's Aluminum Starter Control Surface Kit. This kit comes with a central control module which connects to your computer via USB, two button modules, one dial module, and one slider module finished in Aluminum. The control modules can be assembled around the core module by magnetically attaching them. You can then build a customized interface by daisy chaining modules to fit your requirement.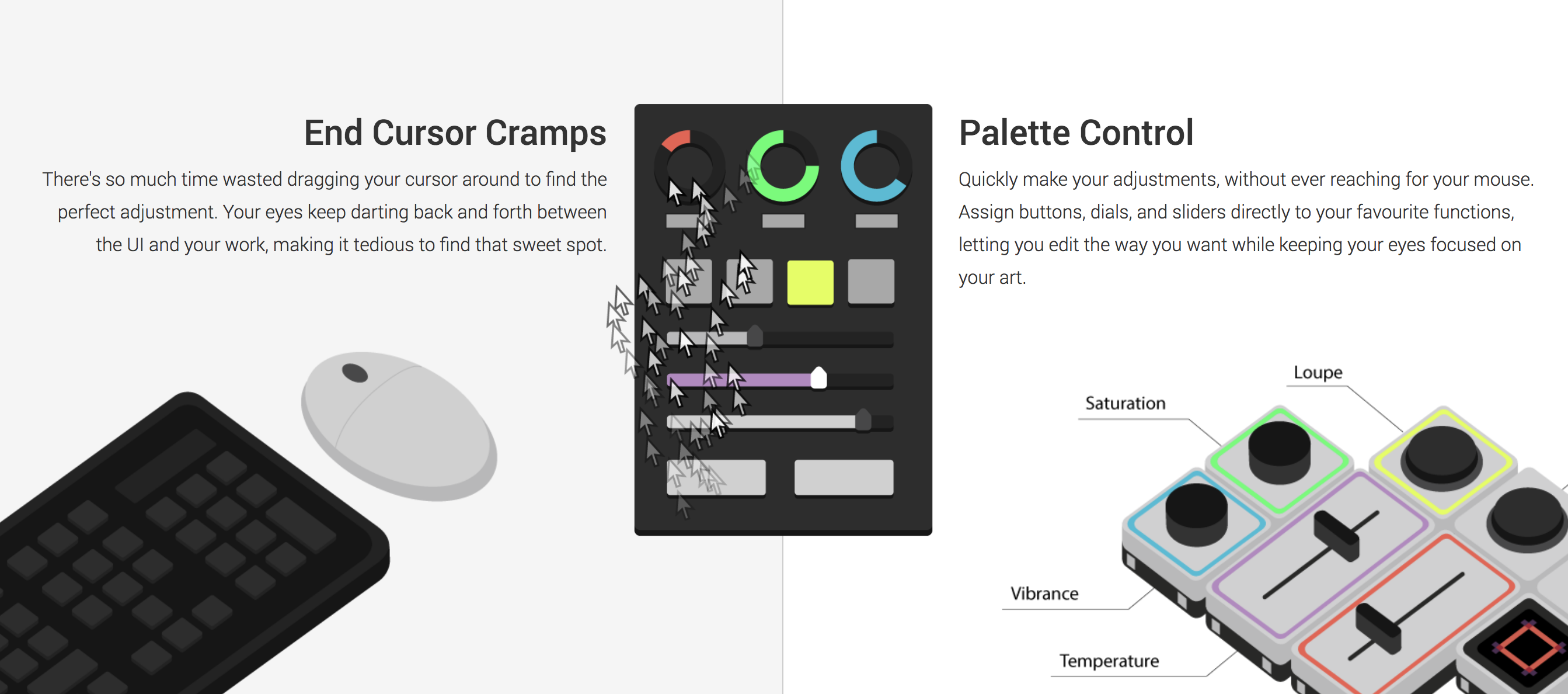 Customizable Application Control

Map out the buttons, knobs, and sliders to various functions within your software of choice. Palette directly supports functionality in Adobe Lightroom, Photoshop, Illustrator, After Effects, InDesign, Premiere Pro, and Apple Final Cut Pro applications. Keystrokes and joystick functions can also be remapped to the different Palette modules for quick access to your favorite shortcuts in any other program including games, simulators, and document editors.
Configure your Own Workspace

When fitting Palette to your workspace, modules can be connected in any configuration you desire around the Core module to optimize your workflow for any given program. If you need more functions, you can add more modules, up to a maximum of 18, in any combination of buttons, knobs, and sliders.
Starter Kit Includes:
Get up and running with the starter kit and add modules as you need them
| | |
| --- | --- |
| 1 Core | 1 Dial |
| 2 Buttons | 1 Slider |
0 Reviews
This product hasn't received any reviews yet. Be the first to review this product!
Write a Review
Additional Information
YES! We are a Palette Authroized dealer!
All new products come with a full manufactures USA Limited warranty.
Protect your purchase with an optional 3-5year extended warranty.
Protect Your New Purchase
Manufacturers' warranties don't cover everything. Protect your valuable investment with an Accidental Damage Warranty.
Choose the warranty that's best for your purchase and customize it to your needs. Products covered: Digital Cameras, Lenses, Video Cameras, Flashes and Lighting
Total Protection from:
+ Manufacturer Defects
+ Impact Damage
+ Sand/Grit Damage
+ Accidental and Unintentional Abuse
+ Mechanical Malfunctions
+ Normal & Abnormal Wear & Tear
Protection plans include standard coverage as well coverage for malfunctions due to accidental damage from handling (ADH). This includes malfunctions due to liquid damage that were the result of an accident. Call us today, if you have further questions.

Please note, this service contract must be purchased/registered within 30 days from the date the equipment is purchased. Once purchased, you will recieve an email with instruction on how to register your warranty.
Attention California Residents: This product may contain Lead that can cause Cancer and Reproductive Harm - www.P65Warnings.ca.gov For more information, go to www.p65warnings.ca.gov.