Description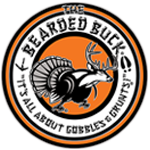 The Bearded Buck - The Bearded Buck name and original logo both got their start from a practical joke among friends. Over the years it has evolved into an outdoor lifestyle brand and now a television show. Our tag line says we are "all about gobbles and grunts" but in fact we are about much more. We love spending time in the outdoors with family and friends; whether that is…hunting, managing our property, or simply sitting by a campfire enjoying a cold one while telling tall tales. We are quite the comical group of characters that love to capture our adventures behind the lens of a camera. You will quickly find out that we are about more than just a trigger pull. Although we put a comical twist to just about everything we do…we take everything we do very serious. We are dedicated wildlife managers and take pride in being stewards of the land. It is the land that provides us with our lifestyle. We believe it is our duty to leave the wildlife habitat, that we are blessed to enjoy, a better place for our next generation of hunters. To learn more about The Bearded Buck, visit our website at www.thebeardedbuck.com or follow us on Facebook and Instagram. Look for us on the Pursuit channel.
Taking video and sharing your hunts just got so much easier. Incorporating the technology in Canon's professional level cameras, the 1/2.84" HD CMOS Pro image sensor delivers outstanding video quality and superb low-light performance.
Canon VIXIA HF G40 Full HD Camcorder 13803267150 - The Canon VIXIA HF G40 Full HD Camcorder records 1920 x 1080p Full HD video at 60 fps in MP4 format. The HF G40 is equipped with a Genuine Canon 20x HD Video Lens and a manual focus ring that can easily be set to control the zoom instead.
Rode VideoMic with Rycote Lyre Suspension System 98813002900 - A shotgun microphone that can easily be mounted on a DSLR camera. It features a Rycote suspension system that attaches to the camera's shoe. The VideoMic can also mount to Rode's boompoles for elevated audio capture. Its supercardioid polar pattern attenuates sounds from the sides. The result is a signal that sounds closer to the camera, even when shooting in noisy environments or at moderate distances.
Rode DeadCat Windshield for VideoMic - The Dead Cat windshield is designed for minimizing any wind noise when recording in high wind conditions. Its artificial fur is specially designed so as to minimize wind noise while remaining acoustically transparent.
Promaster SDXC 64GB 633x Advanced Memory Card - PROMASTER ADVANCED MEMORY CARDS offer excellent performance at an affordable price. Your camera will perform well in all modes including video at high resolutions thanks to the U3 design and fast read AND write speeds of Advanced Memory.
Canon BP-820 Lithium-Ion Battery Pack 13803224894 - The Canon BP-820 Lithium-Ion Battery Pack is small and lightweight, and can be charged or discharged at any time without developing memory effects, meaning it will never lose its ability to hold a full charge.
Bedford Outdoor SPUDZ Cleaning Cloth - A special, high-density treated fabric specialized with our logo for cleaning your camera lens or LCD screen with ease.
Promaster HD UV Filter - 58mm 29144042998 - The ProMaster Digital HD series of filters offers an ultra-competitive price point for an extremely high quality UV and Protection filter. These new filters feature a 12 layer digital anti-reflective coating and are made from premium Schott optical glass for extreme image sharpness.
Fourth Arrow Stiff Arm Kit 42071126113 -We have teamed up with professional hunting videographers to bring you the ultimate hunting camera arm for a hunter.
Manfrotto MVH500AH Fluid Video Head with Flat Base - Designed with a wide platform, optimal for HDSLR camera bodies. Smooth and precise, it has a maximum weight load of 11 lb and professional quality fluid cartridges on both its pan and tilt axes.
Promaster Standard to Canon Mini Shoe Adapter 29144076627 - Perfect for mounting LED lights and external microphones to a Canon camcorder with mini shoe.
Lowepro Flipside Trek BP 450 AW Backpack (Gray/Dark Green) 56035370168 - Designed to go off-road, store and protect your photography gear, tablet, and personal items in this gray and dark green Flipside Trek BP 450 AW Backpack from Lowepro. The BP 450 holds a professional DSLR camera body, 3-4 lenses, and additional accessories in a lower compartment that can be easily retrieved through a body-side access point while the bag is being carried.
0 Reviews
This product hasn't received any reviews yet. Be the first to review this product!
Write a Review
Additional Information
YES! We are a Authroized dealer!
All new products come with a full manufactures USA Limited warranty.
Protect your purchase with an optional 3-5year extended warranty.
Protect Your New Purchase
Manufacturers' warranties don't cover everything. Protect your valuable investment with an Accidental Damage Warranty.
Choose the warranty that's best for your purchase and customize it to your needs. Products covered: Digital Cameras, Lenses, Video Cameras, Flashes and Lighting
Total Protection from:
+ Manufacturer Defects
+ Impact Damage
+ Sand/Grit Damage
+ Accidental and Unintentional Abuse
+ Mechanical Malfunctions
+ Normal & Abnormal Wear & Tear
Protection plans include standard coverage as well coverage for malfunctions due to accidental damage from handling (ADH). This includes malfunctions due to liquid damage that were the result of an accident. Call us today, if you have further questions.

Please note, this service contract must be purchased/registered within 30 days from the date the equipment is purchased. Once purchased, you will recieve an email with instruction on how to register your warranty.
Learn More
WARNING:


Attention California Residents: This product may contain chemicals including but not limited to, lead and/or nickel, that can cause Cancer and other Reproductive Harm.
For more information, please visit www.p65warnings.ca.gov.