Description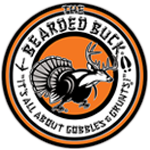 The Bearded Buck - The Bearded Buck name and original logo both got their start from a practical joke among friends. Over the years it has evolved into an outdoor lifestyle brand and now a television show. Our tag line says we are "all about gobbles and grunts" but in fact we are about much more. We love spending time in the outdoors with family and friends; whether that is…hunting, managing our property, or simply sitting by a campfire enjoying a cold one while telling tall tales. We are quite the comical group of characters that love to capture our adventures behind the lens of a camera. You will quickly find out that we are about more than just a trigger pull. Although we put a comical twist to just about everything we do…we take everything we do very serious. We are dedicated wildlife managers and take pride in being stewards of the land. It is the land that provides us with our lifestyle. We believe it is our duty to leave the wildlife habitat, that we are blessed to enjoy, a better place for our next generation of hunters. To learn more about The Bearded Buck, visit our website at

www.thebeardedbuck.com

or follow us on Facebook and Instagram. Look for us on the Pursuit channel starting in July of 2017.
The Bearded Buck Starter Package - The Sony FDR-AX53 is a palm-sized Handycam camcorder that combines a Zeiss 20x optical zoom lens and a high-sensitivity image sensor to produce crisp and high-quality UHD 4K video. The Exmor R CMOS image sensor supports UHD 4K video capture at 24 or 30 fps using Sony's XAVC S codec and features pixels that are approximately 1.6x larger than the previous model for enhanced performance in all conditions, particularly low-light scenarios. The camcorder also features Sony's Balance Optical SteadyShot image stabilization technology to help produce smooth and stable footage throughout the zoom range. Further enhancements include improved autofocus speed and accuracy, a lower-noise built-in microphone, and a high-speed 1080p 120 fps recording mode to create high-resolution slow-motion content.
Sony FDR-AX53 4K Ultra HD Handycam Camcorder 27242895638 - The Sony FDR-AX53 is a palm-sized Handycam camcorder that combines a Zeiss 20x optical zoom lens and a high-sensitivity image sensor to produce crisp and high-quality UHD 4K video.
Rode VideoMic with Rycote Lyre Suspension System 98813002900 - A shotgun microphone that can easily be mounted on a DSLR camera. It features a Rycote suspension system that attaches to the camera's shoe. The VideoMic can also mount to Rode's boompoles for elevated audio capture. Its supercardioid polar pattern attenuates sounds from the sides. The result is a signal that sounds closer to the camera, even when shooting in noisy environments or at moderate distances.
Promaster MIS-STN Adapter 29144065584 - This accessory converts a Sony MIS foot to a standard accessory foot. Perfect for mounting LED lights, external microphones, and other item to a Sony camera or camcorder with a mini shoe.
Promaster SDXC 64GB 633x Advanced Memory Card - PROMASTER ADVANCED MEMORY CARDS offer excellent performance at an affordable price. Your camera will perform well in all modes including video at high resolutions thanks to the U3 design and fast read AND write speeds of Advanced Memory.
Bedford Outdoor SPUDZ Cleaning Cloth - A special, high-density treated fabric specialized with our logo for cleaning your camera lens or LCD screen with ease.
Promaster HD UV Filter - 62mm 29144043063 - The ProMaster Digital HD series of filters offers an ultra-competitive price point for an extremely high quality UV and Protection filter. These new filters feature a 12 layer digital anti-reflective coating and are made from premium Schott optical glass for extreme image sharpness.
Fourth Arrow Stiff Arm Kit 42071126113 -We have teamed up with professional hunting videographers to bring you the ultimate hunting camera arm for a hunter.
Manfrotto MVH500AH Fluid Video Head with Flat Base - Designed with a wide platform, optimal for HDSLR camera bodies. Smooth and precise, it has a maximum weight load of 11 lb and professional quality fluid cartridges on both its pan and tilt axes.
Badlands Camera Daypack Backpack 39966003185 - When we set out to design the perfect companion piece to the Badlands Camera Bag, we vowed to make it smaller and faster than its brother while somehow packing in even more features.
Sony NP-FV70 Camcorder Rechargeable Battery Pack 27242779112 - Take along extra recording power for your camcorder so that you're prepared to film life's precious memories.
0 Reviews
This product hasn't received any reviews yet. Be the first to review this product!
Write a Review
Warranty Information
YES! We are a Authroized dealer!
All new products come with a full manufactures USA Limited warranty.
Protect your purchase with an optional 3-5year extended warranty.
Protect Your New Purchase
Manufacturers' warranties don't cover everything. Protect your valuable investment with an Accidental Damage Warranty.
Choose the warranty that's best for your purchase and customize it to your needs. Products covered: Digital Cameras, Lenses, Video Cameras, Flashes and Lighting
Total Protection from:
+ Manufacturer Defects
+ Impact Damage
+ Sand/Grit Damage
+ Accidental and Unintentional Abuse
+ Mechanical Malfunctions
+ Normal & Abnormal Wear & Tear
Protection plans include standard coverage as well coverage for malfunctions due to accidental damage from handling (ADH). This includes malfunctions due to liquid damage that were the result of an accident. Call us today, if you have further questions.

Please note, this service contract must be purchased/registered within 30 days from the date the equipment is purchased. Once purchased, you will recieve an email with instruction on how to register your warranty.